Modules for expanding the number of RS485 bus terminals for telemetry stations and data loggers. Expanders are used in those cases where it is necessary to connect a large number of sensors and sensors to one RS485 bus.
Expander EXSV/DIN-RS485
Quadruple terminal expander for DIN rail installation. This expander is commonly used for C8, H3, H7, Q2 or E2 stations.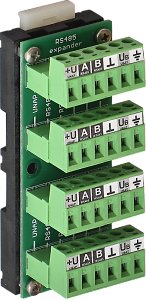 Dimensions EXSV/DIN-RS485 (W x H x D): 35 x 89 x 34 mm
Expander EXSV/DIN/K-RS485
On request, the RS485 expander can be supplied with a 6-core cable connected to the individual terminals connected in parallel. When ordering, it is possible to specify the length of this connecting cable (without specification, I supply a connecting cable with a length of 30 cm).
Expander EXSV/K-RS485
Small RS485 double expander for use in ARIA32 and similar enclosures that do not contain an installation DIN rail.
The expander contains a fixed 4-core cable with a length of 30 cm.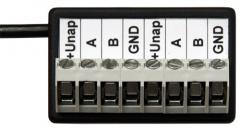 Sensor cables, connectors and connecting expanders